About the Blades Awards: Miva Inc. recognizes the online stores that raised the bar and practiced the utmost of ecommerce excellence in 2014. This year four were crowned The Blades Ecommerce Awards Winners at MivaCon 2015 on March 26th. The following four categories, Best Website Enterprise Class, Best Website Small Business, Most Improved Website and Best Feature, had one winner selected for each category.
"We are honored to have received the Blades Ecommerce Award for Best Small Business Class Website. We put our hearts and souls into this project and could not be happier with how the site turned out. We feel that the site accurately portrays our brand and our passions, while providing the end user with a seamless buying experience through the Miva platform. I want to extend a special thank you Chris Hayden at Cgray, Nathan Tayloe, Megan Mabe, and the entire TGK team for all their hard work and dedication to make our vision for liquidlogickayaks.com become a reality," states Tyler Brown, Business Analyst and Project Manager for liquidlogic Kayaks.
Miva Inc. said of the site.  "This fully responsive online store allows their thrill-seeking customers to shop on the way to their next adventure. With the hover-zoom technology, shoppers can rest assured they are getting exactly what they want. Overall, the shopping experience on liguidlogicKayaks.com is organized, informational and to the point – exactly what today's shopper expects. With all of these reasons and many more liquidlogickayaks.com is the 2015 Blades Ecommerce Award Winner for Best Website – Small Business Class."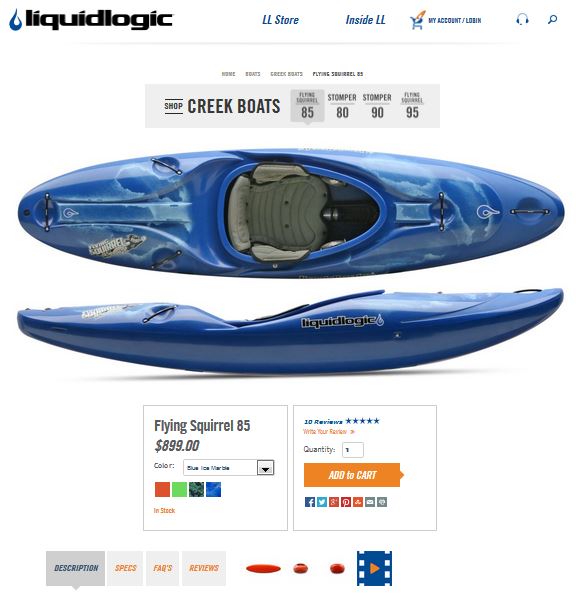 About Miva, Inc.:
Miva is a leading supplier of ecommerce software and services to small and medium-sized businesses. The company provides online merchants, developers, web designers and web hosts with the information and technology needed to be successful in today's online selling environment. Miva's stores have processed over $100 billion in online sales since 1997, providing an enterprise-grade ecommerce platform at a price point accessible to the small business market. For more information, visit http://www.miva.com.
You can see the entire press release here: http://www.prweb.com/releases/2015/04/prweb12647205.htm